STELLAR Materials at the forefront of Implant Surgery - TAUB Products

TAUB Products develops cutting edge problem solving dental resins for the lab, cosmetic, and implant markets.

All-on-X immediate and delayed load full arch guided surgeries have become the pinnacle procedure in implant full mouth smile reconstruction. Full arch guided surgeries offer a patient with an otherwise non-existent smile, the ability to have a confidence inspiring smile with excellent occlusion and alignment. A guided surgery is not inexpensive to the patient. It has a price tag where the patient will expect the very best components and materials are used, for the very best results. If the patient comes back due to PMMA denture fractures at the cylinder interface, in the middle of the healing phase, not only is the patient upset, but the labor and time to fix the issue and reseat the healing denture, will seriously affect the overall profit, patient confidence, doctor confidence in material resin choice, and predictable outcomes of the procedure.

STELLAR DC Acrylic is a revolutionary, dual cure PMMA Pick-up and Conversion resin with amazing cure speed and unsurpassed durability, over any other pick-up resin used for All-on-X denture pick-ups and conversions. It can speed up the pick-up and conversion time by 30 plus minutes. STELLAR offers extreme "Rock Hard" durability and won't fracture throughout the healing phase, when used as directed. STELLAR DC Acrylic resin is great for creating implant verification jigs, welding index jig components, transfer and insertion guides for implants; open tray or closed tray pick-up impression copings; abutment seating jigs; picking up denture locators and chimneys; and creating structure models of implant components, and repair dentures. It can be tack cured in 8 seconds, fully light cured in 20 seconds and will cure on its own in 120 seconds. It provides the fastest production time of any and acrylic, has no shrinkage, has no polymerization heat during cure, and no tension after cure.

"STELLAR DC Acrylic is a game changer for pick-up and conversions of immediate load temporary restorations and locator pick-ups" stated Jordan Taub, Vice-President at TAUB Products. "Using our chemistry and technology, the CDT, Super GP, and Periodontist, now have an ultra-durable, fast setting, no heat, no shrinkage acrylic that dramatically reduces production times and repairs, flushing the bottom line with recovered lost revenue", he added.

TAUB is known for an IMPLANT RESTORATIVE SYSTEM consisting of 3 products that solve many issues when placing cement and screw retained implant restorations. GoCHx Gel Syringeable Chlorhexidine, Liquid Magic Resin Barrier abutment access plug, and ZERO-G Bio-Implant Cement.

GoCHx Gel Syringeable Chlorhexidine is a thin, non-alcohol based gel containing 0.8% Chlorhexidine in a water soluble formula. As a gel, GoCHx can be applied precisely, staying where it is placed, and rinses completely. Leave it in the implant screw well before finalizing the restoration and keep bacteria away. Use GoCHx Gel for everyday use.

Liquid Magic Resin Barrier Material has been highly rated in independent reviews and is used for implant and cosmetic dentistry. It can be used to fill abutment access holes, replacing Teflon tape and other products typically used. Liquid Magic is placed into the access hole, light cured and can be easily removed. Liquid Magic can be used for cement or screw retained restorations. As a barrier product, it can be used when isolation is desired.

The third implant restorative product, according to Jordan Taub, "Zero-G provides hard set cementation of implant restorations. When we designed this cement, we understood incomplete cleanup of other cements, and Peri-Implantitis were major causes of concern. Giving Zero-G the highest radiopacity over any other implant cement, makes any excess cement extremely visible. The cleanup is unlike anything else on the market, any excess can be completely removed. Extremely low water solubility and Anti-microbial properties keep the cement from washing out from under the crown and bacteria off the margin".

From no-prep restorations to full mouth reconstruction, using emax®, CEREK®, Zirconia, lithium disilicate, feldspathic porcelain, PFMs, and Hybrid Implant restorations luted to Ti Bases, FUSION-Zr® Esthetic Resin Cements provides the best results. These esthetic cements allow dentists to present their best work, by offering ease of use, fast cleanup, high bond strength, and correct color representation.

Launched in 2016, Ca-Lok Cavity Liner is a unique to market, highly rated, light-cured resin. Releasing Calcium, Phosphates, and Fluoride, it is a true bioactive resin. Unlike any other resin or MTA bases and liners, Ca-Lok offers adhesion to tooth structure, preventing movement and sensitivity, and has seamless compatibility to other restorative materials. Ca-Lok is radiopaque and easily seen. Use Ca-Lok when practicing conservative dentistry.


Distributors needed in South and Central America (except Brazil), Russia and Eastern Europe, Middle East, and Asia.

Vendor Showcase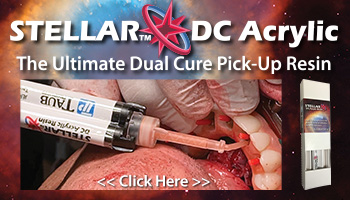 STELLAR™ DC Acrylic - Dual cure PMMA Resin
The Ultimate Dual Cure Pick-Up Resin: Save $1k's - Build it right the first time!
Fast and easy application. Extreme durability makes STELLAR an excellent choice for PMMA Denture to TI Chimney pick-ups and conversions and Overdenture Attachment pick-ups. Instant Auto-Mix.

Tack cure and build 5 - 8seconds, Light-cure 20 seconds, Self-cure in 120 Seconds.
No waiting!

Efficiency and Increased Production: Our unique chemistry and technology offers the CDT, Surgical Tech, and GP an acrylic that increases production, by dramatically reducing production times, which helps the bottom line. STELLAR's on-demand continuous flow of material allows quick and easy fabrication.

One application pays for itself and then some...
STELLAR FEATURES:

SAVE TIME! BILL MORE HOURS!
First use pays for syringe!
Instant Auto-Mix.
Dual Cure: 5 - 8 sec. Tack cure and build
Light cure 20 sec; Self-cure 120 sec.
PMMA Resin chemically bonds to PMMA Dentures.
NO SHRINKAGE!
NO POLYMERIZATION HEAT!
EXTREME DURABILITY - "Rock Hard"
When heat added.
Fastest production times.
Burns out clean - "no residue".
Material easily layered. Tack cure.
Excellent and accurate reproduction of detail.
Grinds easily.
Excellent Pattern Resin.

STELLAR USES:

Immediate Load Full Arch PMMA Denture Pick-up and Conversions.
Overdenture Attachment Pick-ups.
STELLAR Pink - Also a Pattern Resin. Burns out clean!
STELLAR Tooth White - Quickly build tooth anatomy.
Connect / weld multi-part index jigs and iJig system.
Create Implant Verification Jigs, Implant Abutment Seating Guide.
Create Pick-up Impression Copings.
CDT and Super GP approved.

ITEM #:
50-1010 - Pink - 1x 5.85 gm Syringe
50-1050 - Tooth White - 1x 5.85 gm Syringe read more